A persistent trader with a knack for hunting memecoin trends has managed to lock in massive gains in the last month, according to blockchain sleuthing firm Lookonchain.
Lookonchain says that a trader made hundreds of Ethereum () over the last month trading Pepe Coin () and another very low-cap altcoin.
The entity's gains on PEPE amounted to 32x, according to the firm.
"Sharing a super meme coin hunter who earned 562.64 ETH ($1.06 million) in the past month!
– Made 189.5 ETH ($345,306, 4x gains) on RFD.
– Made 127 ETH($248,697, 32x gains) on PEPE."
Lookonchain says the memecoin hunter traded a total of 104 different tokens in the past month, of which 66 were profitable, giving the trader a win rate of 63.5%.
The blockchain tracking firm has reported a number of traders who took advantage of the massive rallies in PEPE as of late.
Lookonchain reported on a trader earlier this month who made 48x on his PEPE trades. The same trader then took their gains and reinvested them back into PEPE on its price dip. On-chain data shows the entity selling their ETH for more PEPE on decentralized crypto exchange Uniswap (
"A SmartMoney who made 1,219 ETH ($2.2 million) on PEPE spent 1,173 ETH ($2.1 million) to buy 1.33 trillion PEPE again… The buying price is $0.000001586.
He bought 2.24 trillion PEPE with 26 ETH ($48,000) at $0.00000002166, then sold for 1,245 ETH ($2.24 million) at $0.0000009985, with a gain of 48x."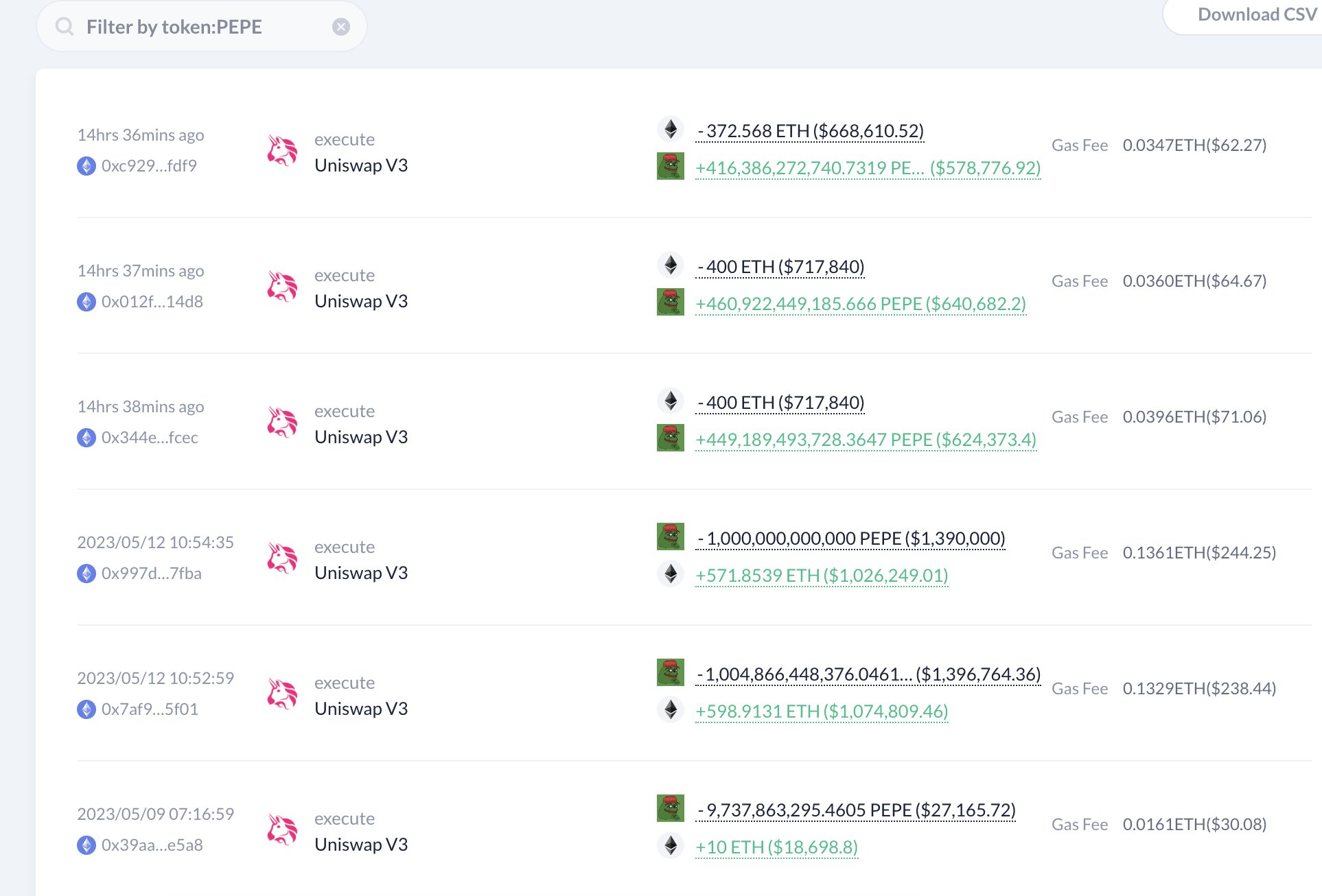 At time of writing, PEPE is trading for 0.000002, mostly sideways on the week.